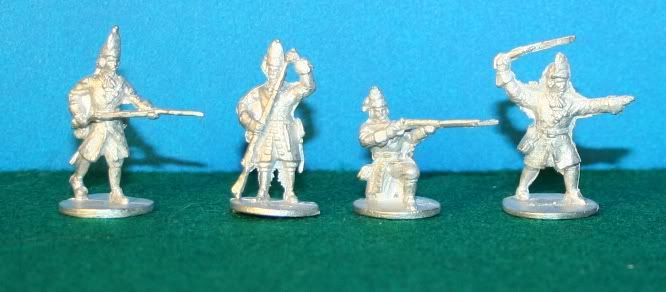 As discussed in earlier posts, John Cunningham is producing several of the old Les Higgins ranges. Besides making the original sculpts available again, he has added new figures to several of the ranges.
The most extensive range currently in production is the "Marlborough" series. It is a fully fleshed out range, with a variety of infantry, artillery, cavalry and command figures available.
The images above feature the Grenadiers. The lower image shows figures MP 2 to 6, as follows:
MP 2 Grenadier at ease
MP 3 Grenadier throwing grenade
MP 4 Grenadier at the ready
MP 5 Grenadier firing
MP6 Grenadier thrusting
The top photo includes MP 7 to 9 and MP 17a:
MP 7 Grenadier charging
MP 8 Grenadier loading
MP 9 Grenadier kneeling firing
MP 17a Grenadier officer with sword.
In addition to these figures, there is a further Grenadier, in pose MP 1(march attack).
The figures measure 20mm, from the sole of the foot to the eye, with a couple of exceptions. In this case MP7 is a bit taller than his peers.