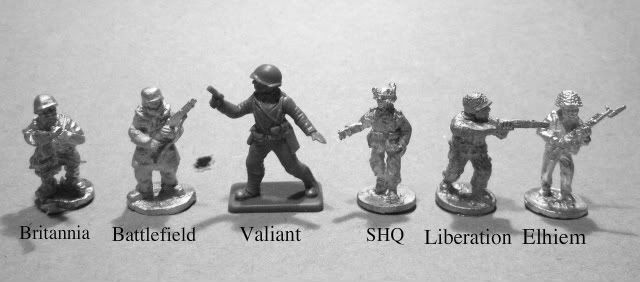 This image was posted recently by "Big P at GMG" on TMP. It shows a plastic figure from Valiant, compared to five different 20mm manufacturers. Click on the picture for a larger version.
The Plastic Figure
The Valiant figure comes from set VM003 "American GIs 1942/44." The set includes 64 figures in 16 poses.
The Metal Figures
As indicated in the picture, the metal miniatures come from the manufacturers below.
Britannia Miniatures: Offers a broad range, covering all the major combatants in depth.
Battlefield Miniatures: Offer a small number of American, Japanese, French and Russian figures, as well as more substantial British and German ranges.
SHQ Miniatures: Also provides a very deep range with all major nations covered.
Liberation Miniatures: Currently this maker is only producing post-1945 figures.
Elhiem Figures: Have released WW2 figures in two series. Their newest series covers the Red Army, US troops in winter gear, and a number of German subjects. The older series also covers some other topics.