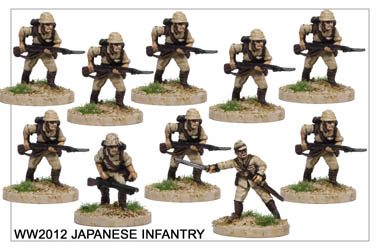 The photo above comes from the Wargames Foundry website and shows item WW0012 "Japanese Infantry." Click on the picture for a larger image.


Wargames Foundry has put their 20mm Second World War range back into production. This is at least the third time that this interesting range has been available.
All of the major combatants are represented, although the number of sets available for each varies. In addition, the number of unique poses within a set can also vary significantly. Nationalities covered include:
American
Australian
British
Chinese
Finnish
French
German
Indian
Italian
Japanese
Polish
Russian
The range includes infantry figures and vehicle riders or crews, but does not feature any artillery crews.
The figures retail for $23.10 (US) per 10-figure pack.
You can find out more here:
http://wargamesfoundry.com/historical_ranges/single_packs/20mm_ww2/