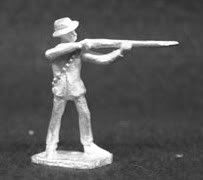 The images above, taken from the HistoriFigs blog, show J-51 (Boer firing) and JC-55 (Boer rider). See below for details; click on the images for larger versions.


Mike Tabor at HistoriFigs has good news for those who have noticed a gap in HistoriFig's 25mm colonial offerings. Jack Scruby designed and released a small set of Boer figures in the mid-1960s. Mike has now been able to find or re-create masters for all these figures, and has started to produce them. The range now includes:
J-50 Boer infantryman, standing on guard
J-51 Boer infantryman, standing, firing
J-52 Boer infantryman, walking, rifle at the trail
J-53 Boer soldier, to be used as an artilleryman (no weapon in hand)
JC-54 Boer rider, firing from saddle
JC-55 Boer rider, holding rifle on thigh
The foot figures are being sold for 75 cents each, $4.50 for a bag of 6, or $7.25 for a dozen. Cavalry figures, including mounts, sell for $2.00 each, $11.75 for 6 or $21.75 for 12. All figures are in US dollars.
The HistoriFigs website is here:
http://www.historifigs.com/index.htm