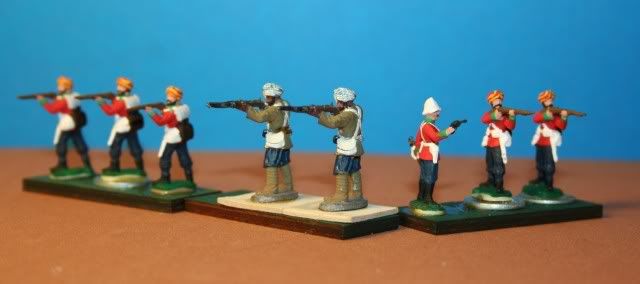 For the longest time, Esci was the only source for colonial troops from the Anglo-Indian army. The company only released three poses (two firing, and one running), in a set that was mainly just a re-issue of their Zulu British regular infantry. With the demise of Esci, this small source of plastic Indian troops dried up.
The situation changed in 2008 with the release of a set from RedBox. However, that set received fairly poor reviews; it is the upcoming release from HaT which is really anticipated. Previews of that set can currently be seen on the HaT website, including here:
Hat test shots
As can be seen from the picture above, supplementing the Esci figures with Ral Partha does require some flexibility on size. The Ral Partha figures dominate the smaller plastic troops.
Credit for painting all the figures in this picture goes to Chuck Turnitsa. Click on the picture for a larger version.