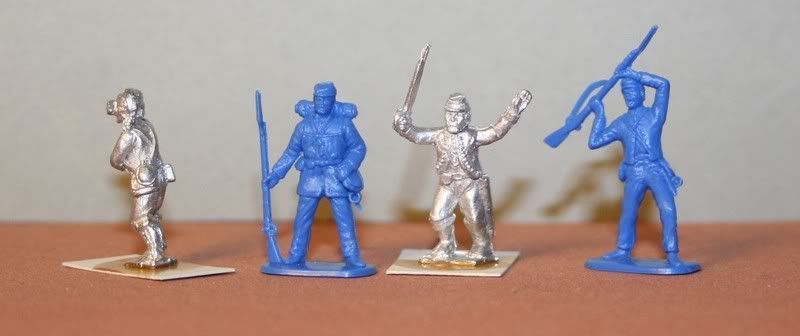 The two photos compare Accurate/Revell civil war figures (in blue or gray plastic) with Newline Design Zouaves (in bare metal). Click on the images for a larger version.

Manufacturers' designations: The blue plastic figures come from the Accurate set designated as 7202 – American Civil War Union Infantry. It has been reissued by Revell with the same title as 02559. The gray figures are from Accurate set 7205 – American Civil War Engineers. It has been reissued by Revell as set 02564 – American Civil War Confederate Pioneers.

The metal figures in the fez are from Newline Designs set ACW 79 – ACW, Zouave command in Fez. The officer in kepi come from their set ACW 75 – ACW, Zouave command in Kepi..

Height compatibility (measured from sole of foot to eyes):
Accurate/Revell figures – 22mm.
Newline Designs zouaves – 20mm.

Sculpting style compatibility (on 5 pt scale):
Accurate/Revell – C (Average).
Newline Designs – C (Average)

Compatibility of uniform, equipment, etc: Since the figures represent different units (union infantry, engineers, zouaves), there are no obvious incompatibilities.

Overall conclusions: Although the height difference seems small when measured, there is a notable difference when looking at the figures together. In part this is aggravated by the tendency of the Newline figures to be leaning forward noticeably (making them appear shorter), while the Accurate figures stand straight and even hold things over their head. However, with a similar sculpting style, the figures do not look out of place on the same table.