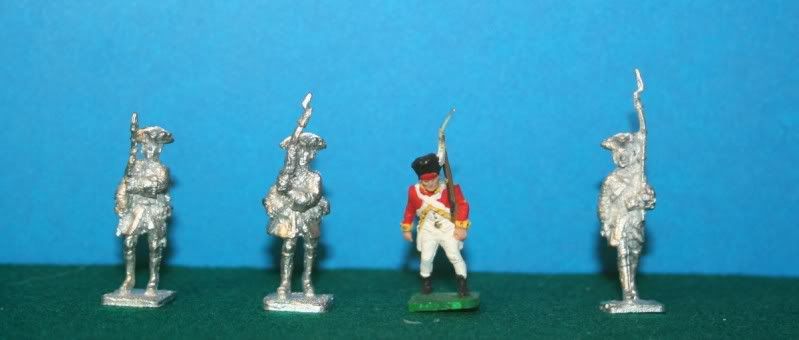 Wodensfeld was a small range of 20mm metal figures started by John Weaver in the mid 1990s. Run as a one-man operation, the company only lasted a few years, with production ending before the millennium.

Wodensfeld's main line was an American Civil War range, which will be described in future posts. However, the second era addressed by the firm was the Seven Years War / French and Indian War. John Weaver produced a set of French Infantry of this period before shutting down.

The Wodensfeld moulds have been acquired by John Cunningham, who has completed test runs. He expects to release the SYW French infantry in a limited run soon. They will be available in sets of 36 figures, with an expected run of 200 sets.

The image above shows three figures from the test run. They are posed with an Airfix AWI Grenadier for comparison (but as he is wearing the 1768 issue fur cap, he clearly is not a contemporary). Click on the image for a larger version.