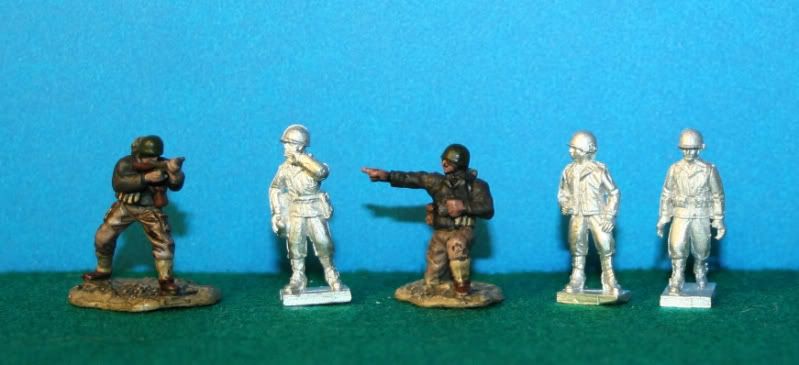 The photo above compares three SHQ US GIs with two pre-painted figures from Forces of Valor. Click on the image for a larger version.

Manufacturers' designations:
The FOV figures are included in set 85242 "US Landing Craft LCM 3."
The SHQ figures come from their "WWII American Infantry, 1942-44" range. The figures come from several of the packs, as follows:
Far left: GI 23 Wounded and Two Medics
Middle: GI 25 Surgeon and Two Orderlies
Far Right: GI 24 Stretcher Party
Height compatibility
(measured from sole of foot to eyes):
Forces of Valor – 20mm approximately (neither of the figures are fully upright).
SHQ – 21mm.
Body Build compatibility
(from 5 categories):
Forces of Valor – D (Somewhat Heavy)
SHQ – C (Average)
Overall conclusions:
Forces of Valor troops are sold mainly as complements to their vehicles, although a few packs of just figures have been released. As can be seen, they match up fairly well with the SHQ troops. The FOV figures do look a little heavier, but not outside the range of normal human variation.