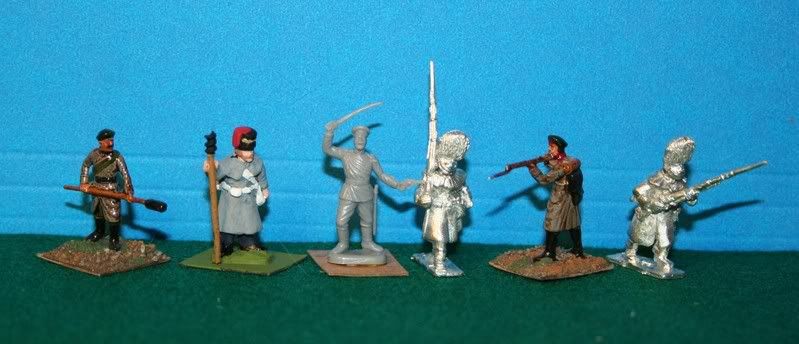 The photo above compares Esci's Russian figures (infantry and artillery) with British Horse Artillery and British Guard infantry from Tumbling Dice. From left to right the models are: Esci artilleryman, Tumbling Dice horse artillery, Esci Russian officer (unpainted plastic), Tumbling Dice British Guardsman (unpainted metal), Esci Infantryman, another Tumbling Dice Guardsman. Click on the images for a larger version.

Manufacturers' designations:

The Esci models are from box 221 "Crimean War Russian Infantry and Artillery." They were reissued by Italeri as set 6053 "Russian Artillery."

The metal gunner is from Tumbling Dice set C1854 BR 13: British Horse Artillery Gun Crew. The other Tumbling Dice figures come from set C1854 BR 1: British Guards in Bearskin

Height compatibility (measured from sole of foot to eyes):
Esci / Italeri figures – 23mm.
Tumbling Dice models – 21mm.

Body Build compatibility (from 5 categories):
Esci / Italeri – C (Average)
Tumbling Dice – D (Somewhat heavy)

Overall conclusions: Esci only made this one set of Crimean foot figures, and they do match up reasonably with the Tumbling Dice models. The fact that the plastic figures are a bit bigger tends to mask the fact that the metal models have a heavier build. Again, the slight difference could be eliminated by a thicker base.